Sounds to Me Like A Promise: On Survival
(Part One of a Three Part Meditation on Audre Lorde: The Berlin Years by Dagmaar Schultz)
"I love the word survival, it always sounds to me like a promise.  It makes me wonder sometimes though, how do I define the shape of my impact upon this earth?"

–reflection cut from an early draft of "Eye to Eye: Black Women, Hatred and Anger" by Audre Lorde (Audre Lorde Papers, Spelman College Archive)
I love the word survival.  And I hate how we declaim it in our contemporary mouths.  Rarely these days do you see the word survival without the disclaimer, not just (survive) and the additive, but thrive.   Are we so seduced by the rhyme that we forget the whole meaning of survival?   What people most seem to be actually meaning today when they say, "not just survive" actually means not just subsist.  Survival has never meant, bare minimum, mere straggling breath, the small space next to the line of death.
Survival references our living in the context of what we have overcome.  Survival is life after disaster, life in honor of our ancestors, despite the genocidal forces worked against them specifically so we would not exist.    I love the word survival because it places my life in the context of those who I love, who are called dead, but survive through my breathing, my presence, and my remembering.  They survive in my stubborn use of the word survival unmodified.    My survival, my life resplendent, with the energy of my ancestors, is enough.
Of course survival is a keyword in black lesbian poet warrior mother teacher, Audre Lorde's lexicon, and in our memory of her.   Ada Griffin and Michelle Parkerson's biographical film about Lorde is called "A Litany for Survival" after her most remembered and recited poem.   "A Litany for Survival" is in fact the poem through which Lorde most frequently survives and is often the last shrine of the word survival on our tongues.
So it is no surprise that Dagmar Shultz organizes her film, Audre Lorde: The Berlin Years, around footage of Audre Lorde powerfully reciting this unkillable poem, stretching the reading through the entire film, but not just because the poem is iconic.   The persistence of the poem is appropriate because the film is 100% about survival.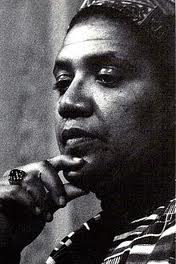 The film is the survival of Audre Lorde, her face given back to us through the many portraits interspersed in the film.  The film is the survival of the Afro-German women's movement as we watch the living founders of that movement, silver-haired and sleek, comment on their own young gumption more than 20 years ago.  The film is the survival of May Iyim, a poet and co-founder of the Afro-German woman's movement who killed herself at the age of 34, four years after Audre Lorde died.  I find it appropriate and moving that Iyim gets the most face time of anyone in the film (besides Audre Lorde) and is also memorialized with a series of portraits, even though viewers who don't know about Iyim's life and death, which the film does not explicitly contextualize, may not understand why her bright face is such a crucial image.  The film is the survival of an intergenerational ethos, both in the work of Iyim and other Afro-German women, often raised in white families, to make intergenerational ties, and in Audre Lorde's reminder that "no revolution happens within one lifetime."
continued at http://thefeministwire.com/2012/10/the-shape-of-my-impact/